Hiring specialists for tree removal may seem like an unnecessary expense, but it should be seen as a valuable and potentially life-saving investment. While removing a tree yourself can save you money in the short term, attempting to do so without the correct tools and skills can be both dangerous and time-consuming. Trained specialists have the experience, equipment, and qualifications necessary to safely cut down your trees, avoiding potential hazards which could otherwise put you or others at risk of harm. Not only will the job be done quicker and with more precision than if you attempted it alone, but having professionals carry out your work means that any errors are covered by insurance policies held by those who specialize in tree care services.
In this blog post, we'll run through some of the most pertinent reasons why hiring experienced specialists for tree removal services is beneficial.
1. Knowledge & Experience
Hiring a professional for tree removal isn't just about having the correct equipment and methods for the job; it's also about having the proper knowledge and experience. Professional tree removal companies have developed their expertise over many years of practice, which allows them to quickly identify potential issues that may arise with a given project. By possessing this deep understanding of the work, they can better develop techniques in order to approach unique situations safely and efficiently, as well as create strategies to minimize any damage or disruption to surrounding areas. In conclusion, hiring a professional tree removal company ensures that your project is handled properly and with confidence.
2. Safety
Tree removal can be difficult and dangerous work, especially when the tree is large or near a building. Attempting to remove trees on one's own increases the risk of injury due to inadequate safety equipment or a lack of understanding of standard safety procedures. Professional service providers possess all the necessary safety tools, tools that may not be easily accessible to homeowners, and are trained in safe industry practices to ensure everyone's protection. By investing in a knowledgeable expert who possesses industry experience and expertise, property owners are guaranteed confidence in knowing their work will be done correctly and safely.
3. Proper Equipment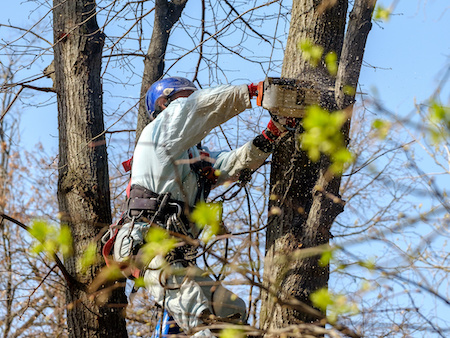 When it comes to tree removal, having the proper equipment is crucial. It involves using various specialized and technical equipment, such as chainsaws, ladders, climbing ropes and harnesses, rigging and more. Having appropriate safety gear is essential for tree removal, as there can be hazardous conditions and risks involved when working at heights. Professional tree care specialists are trained to know the right type of equipment they should use in any situation and also how to use it safely with minimal disruption. Using the right equipment ensures that tree removal can be carried out safely and with confidence by experts in the field.
4. Time
Hiring a professional tree removal service can be an incredibly effective way of ensuring time is saved when tackling big jobs. Without the need to buy tools, rent or borrow equipment, or spend lots of time researching how to complete the task, a professional tree removal service can take this responsibility off your hands. Not only does this save you time, but it also means that you will have the peace of mind of knowing that the job is being done correctly and safely by qualified, experienced professionals.
5. Cost Savings
Hiring a professional tree removal service can be a great way to save money. Not only do they provide the manpower and equipment needed for proper removal, but their expertise ensures that the job is done correctly and safely. With a professional tree removal service, you won't have to worry about inadvertently incurring extra costs from doing the job incorrectly or from injuries caused by falling branches or other mishaps. Professional tree removal services may cost more upfront, but in most cases, they will end up being cheaper in the long run due to their greater efficiency and safety standards. Plus, you'll have peace of mind knowing that your trees are being taken care of by experts who can help maintain their health and longevity.
Your Local Tree Removal Vancouver WA Specialists
When you require tree care services in Vancouver, WA, Arborscape Tree Care is here to help with a staff that includes professional tree service personnel and certified local arborists. We understand the unique challenges of the local environment and can provide comprehensive, customized solutions for all manner of tree care needs. Our team is trained in the most advanced practices for on-site work safety, timber harvesting and tree management.
We offer a wide range of services, including:
Emergency Tree Removal Services
Tree Planting
Expert Tree Pruning Services
Disease Control
Shrub Pruning
Stump Grinding/Removal
Tree Trimming
Complete Tree Maintenance
And much more!
Our commitment to excellence means that each customer gets exceptional service with quality results. Whatever your tree care needs may be, let Arborscape Tree Care take care of it today! Contact us for a free quote.
We look forward to hearing from you.