Tree Care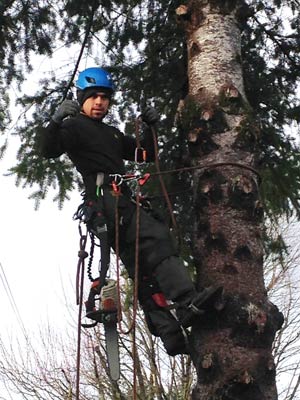 You don't want to take any chances on the health of your trees. An unskilled tree care company can compromise more than your trees; they can put your safety at risk! For skilled tree care Portland residents have depended on Arborscape Tree Care for over 30 years.
Comprehensive tree care you can depend on
Reliable tree care isn't just an ideal. Our tree care is based on scientific principle and tested methodology. Tree are alive. Their type, age, and current condition all factor into how they should be treated. Our arborists have a wealth of experience and knowledge to draw on. That's why reliable tree care demands dedication and care we're known for.
Just some of the tree care services we perform include:
Pruning: Pruning services are performed to ANZI standards. The International Society of Arborists established these standards to protect human safety and the health of the tree. The care we provide is always in your best interest. That's why we practice dead branch removal and thinning to promote health and wind resistance. Fast and reckless services like "topping" can destroy the health of a tree and cause long term stability problems.
Tree Doctoring: Disease, insects, and physical damage can all harm a tree. They aren't necessarily fatal though. Our tree care experts will diagnose your shrubbery or trees in order to identify the problem. If treatment is necessary, we will explain your options and potential outcomes. Our specialist are happy to answer questions you may have, and treatment may not be necessary.
Tree Removal: Depending on the safety of the area and health of the tree, removal may be advisable. With our complete tree care, Portland tree owners can enjoy skilled removal. We'll keep you safe, acquire any necessary permits, and facilitate work with the local Urban Forestry department when tree location requires it.
Contact us for professional tree care today!
Our staff of trained tree care experts includes 4 certified arborists. We're always ready to deliver great service, and happy to provide you with a free estimate from our tree care estimator. There's no time to way, so call 360-994-5124 or Contact Us today for friendly, professional, and affordable tree care.
Some other services